Tuesday, July 17, 2007
You may have seen the photos around at various places of the Killer Year crew, promoting their new Killer Year anthology. CrimeSpot.net has obtained an EXCLUSIVE photo of the group last year, promoting a slightly different book: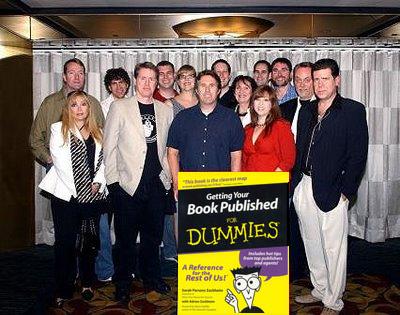 And is it just me, or does KY editor Lee Child look all, "I'm not with them."

Love in the Great White North. Numerous and sundry congratulations to Mississippian Neil "Crimedog" Smith, now a resident of Minnesota, who recently got married. I think Karen Olson said it best, in a comment at best man Victor Gischler's blog: "All the best to the happy couple..."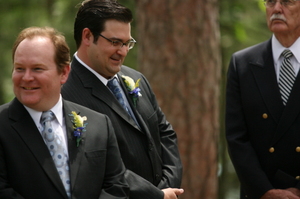 "...oh, and to Brandy as well."




Her parents must be so proud. All jokes aside, best wishes to the new couple.

And their must be something in the water up north, because Bryon Quertermous of nearby Wisconson (they're right next to each other on the map) has recently gotten engaged. I give him a lot of grief about his "Canadian" girlfriend (as in, "Yes I have a girlfriend - she's from Canada!"), but again, best wishes. Here's a picture of the lucky lady: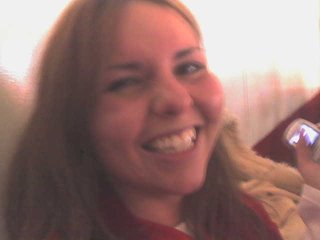 And here's some proof of the fact she's vision-impaired: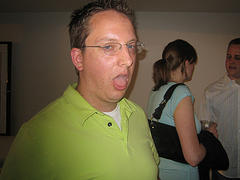 New Noir-Type Stuff. I recently came across the newish web zine Pulp Pusher via the Crime Zine Report, and it looks like really good stuff. The latest updates include stories by "Big" Jim Winter, Todd "Big Daddy Thug" Robinson, and Sandra "Rootin' Tootin'" Ruttan.

Another new zine is The Back Alley. The debut issue features stories by (among others)Edgar winner G. Miki Hayden, Stephen D. Rogers, and CrimeSpot fave Jack Bludis, plus a classic story from Carroll John Daly. Check it out.
posted by Graham Powell at 4:58 PM