Wednesday, June 06, 2007
Congratulations! Lots of worthy news around the mystery world lately. Here's a sampling off the top of my head:




Mug Shots #5. And now the moment you've all been waiting for - the most recent installment of Mug Shots. Or in this case, "Cheap Shots", because I'm sure that anyone who has ever met Marcus Sakey can't help but notice the resemblance. So, is that the author of the highly-praised The Blade Itself, or is that... Detective David Starsky!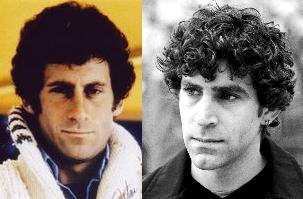 Like I said, it's just too easy.

Who killed the radio star? A while back Jonathon Santlofer sent me a link to a video advert for his latest, Anatomy of Fear. Check it out on YouTube. And I know this isn't the only book video going around - authors, send me a link and I'll do a roundup.

Still got the blues. The new Noir Blues issue of Hardluck Stories is out, and contains a treat for those of us who've been on the web a while - a new Doug McCool story by Miles Archer. It's really nice to see guys like Archer and Hugh Lessig still putting out good stuff. Like several recent issues, Noir Blues features artwork by Jean-Pierre Jacquet.

Thug life. And of course there's a new issue of ThugLit is out, with some big news - to quote Todd Robinson (Big Daddy Thug), "Starting next year, the geniuses over at Kensington Books will be publishing the first of THREE (count 'em... well, don't actually count em since we don't have the first one out yet. You get the point. Shut it!) ANNUAL THUGLIT ANTHOLOGIES!" (additional exclamation points redacted)

See you next time!
posted by Graham Powell at 6:36 AM