Tuesday, June 13, 2006
Barry Eisler was in Dallas last night, pushing his latest book about assassin John Rain, The Last Assassin. I managed to make it across town to the Preston Royal Borders, and brought along my camera to record the occassion.

Barry made a dramatic entrace, smashing a hole through the ceiling and swinging down ninja-style. Well, no, though that would have been cool. Instead he wore this clever disguise: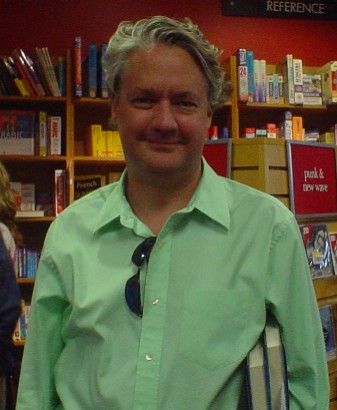 Wait, that's Harry, not Barry. Dallas' own Harry Hunsicker (author of Still River) was there, looking awfully cool in the heat. He reports that his next Lee Henry Oswald book, The Next Time You Die, will be out on July 11th - just in time for Con Misterio - and he's got a story in Michael Bracken's Fedora 4 anthology, out early next year.

And here's the man of the hour: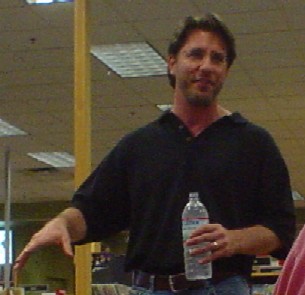 As you can clearly see from this photo, my camera sucks. Sheesh. In my defense, I had the flash off so I wouldn't distract.

There was a decent crowd on hand, fifteen or twenty people, and all fans of Barry's. Barry himself turned out to be as engaging as I'd heard and spoke for nearly an hour. Here he is seeking answers from above: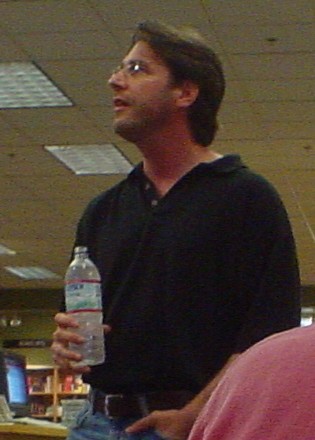 He still has some stubble left over from his role as Sonny Crockett in the upcoming film version of Miami Vice.

After talking about Assassin he spent a few minutes discussing the future of the John Rain series. He still enjoys writing the Rain books but would like to branch out in the future, maybe writing a standalone featuring Rain sidekicks Dox or Delilah. The outline for the sixth Rain book is complete, and Eisler says he feels that this book will in some ways bring the series full circle.

Barry also spoke at some length about the packaging of the series, and how he's gained a better understanding of what's successful and what's not. In particular he felt the "Rain" themed titles of the first four books (Rain Fall, Hard Rain, Rain Storm, and A Killing Rain) didn't really communicate what the books were about, whereas The Last Assassin puts the point across more directly. He also felt the early covers, though eye-catching, were too generic: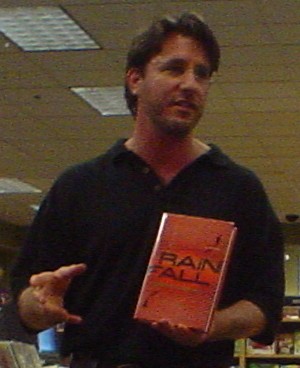 Plus his name wasn't big enough.

Oh, and he's heard every possible "Rain" title, including "Rain Coat", "Rain Check", and my favorite, "Acid Rain". We also got to learn Barry's original title for his first book: A Thing Out Of Season.

Then it was time for the signing. I ended up in the line next to Harry, and was just about to get the full sordid story of the Murder in the Magic City when it was my turn: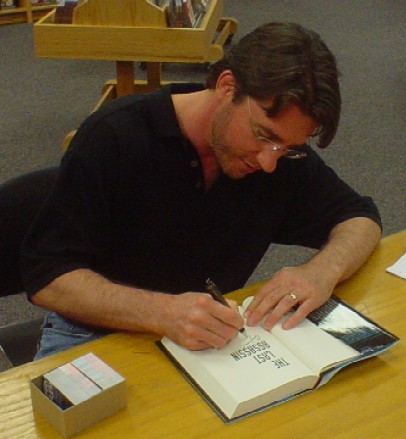 And here's a picture of me with Barry. I'm the tall, good-looking one. Notice how I managed to crop out most of my gut: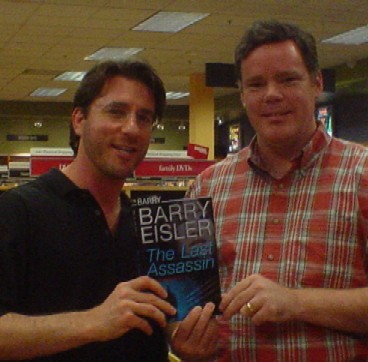 And here's a picture of Barry and Harry, putting to rest all the rumors that they're really the same person: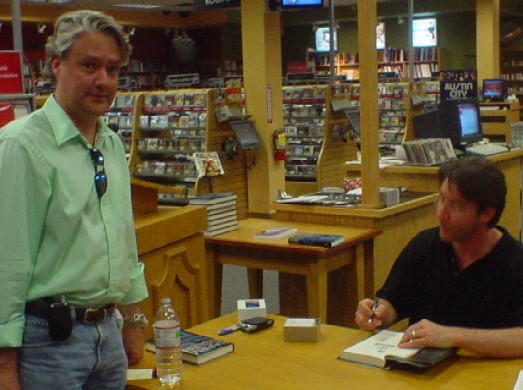 All in all a pretty good time and Barry was gracious and entertaining.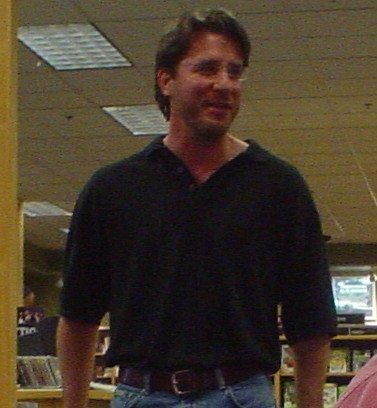 * Speaking of Harry's new book and Con Misterio, I made a list of all the books I'll have to haul back from there. When I got to "1.5 metric assloads" I gave up. At least getting them signed will increase the value on eBay.
posted by Graham Powell at 8:03 PM